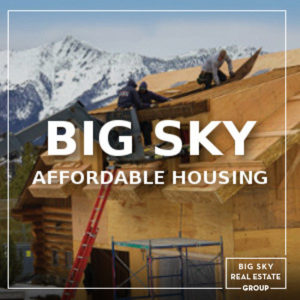 Big Sky Affordable Housing is a top priority for the Big Sky Community. To address the affordable housing needs in this growing resort community, the Big Sky Chamber of Commerce and the Human Resource Development Council formed The Big Sky Community Housing Trust.
The Big Sky Community Housing Trust is an organization formed to build, steward, and advocate for affordable housing in the Big Sky community.
The current median prices for single family homes in Big Sky, and condos in Big Sky are not affordable for many of Big Sky's residents.
Big Sky Affordable Housing
Big Sky Single Family Homes Median Price
Big Sky Condo & Townhouse Median Price
Big Sky currently has a population of 2,500. The Big Sky community is steadily growing and all of the resorts in Big Sky are expanding. Numerous shops and restaurants, in addition to a movie theater and a full-service grocery store have all been built in recent years. Big Sky Medical Center has expanded and is offering emergency services and inpatient care.
Local businessman Loren Bough has provided an initial land donation of 10 acres in the South Fork neighborhood with the intention to build housing for year-round workers that provide essential services to the community. This would include teachers, law enforcement officers and medical personnel, such as firefighters, according to Bough.
The Big Sky Community Housing Trust has submitted plans to address Big Sky's affordable housing situation to the County Commission by building affordable housing on the land that Bough donated, but the commission denied the Big Sky Community Subdivision's preliminary plat approval.
The decision was more of a referendum on the design of the development than affordable housing in Big Sky, as the commissioners denied two of three variances from county subdivision standards requested in the application.
The community of Big Sky is going to continue to work on affordable housing and will continue to pursue other opportunities to address the housing needs across the spectrum from seasonal, to rentals to ownership.