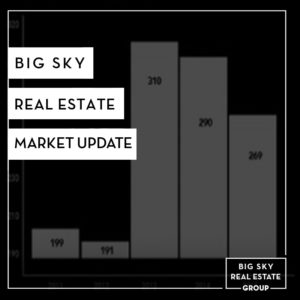 The Big Sky Real Estate Market for 2020 sees increased interest from buyers located in high density metropolitan areas. You can view the Big Sky Real Estate Market Reports located in our Data Center for reports on Single Family Homes vs Condos.
Sales volume is down for 2020 primarily due to lack of inventory and more stringent lending requirements. However, strong buyer demand and low mortgage interest rates continue to drie the market.
We need to look back at prior years to fully understand this Big Sky Real Estate Market Update. 2017 strong demand, but inventory levels remained very low. 2016 saw increased prices due to strong demand and lack of inventory. 2015 was a year of stabilization in the Big Sky real estate market. After a significant increase in units sold in 2013 and an increase in gross sales volume in 2014, the market leveled in 2015. In examining sales history closely, we see that 2013 was representative of a soft sellers' market marked by an increase in units sold from previous years. 2014 showed an increase in gross sales volume although units sold decreased, largely due to strong activity in new, high end product sales. The impressive number of high end sales in 2014 depleted the high end inventory available in 2015 which in turn resulted in a slightly lower gross sales volume in 2015.
Inventory in 2015 showed 430 properties available, as compared to 450 properties during the same time frame in 2014 for the Big Sky Real Estate Market Update. Our current absorption rates(read absorption rate definition) are another indicator of stabilization within the real estate market. Assuming these rates are maintained, in conjunction with new high end inventory availability, we anticipate 2016 gross sales volume eclipsing that of the last two years.
Single Family Homes
---
Condo & Townhouse
*All information was obtained by the Big Sky Country MLS and is deemed to be accurate but is not guaranteed. Please contact a Big Sky Real Estate Group Sales Associate for information.
REQUEST A COMPREHENSIVE CURRENT BIG SKY REAL ESTATE MARKET REPORT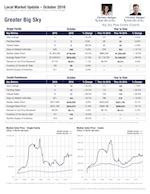 GET A COMPREHENSIVE
MARKET REPORT
As Big Sky Real Estate Experts we know the local market. If you are interested in a detailed analysis we can email you a more comprehensive market report.
Simply provide the email address you would like the report mailed to and it will be sent immediately.
Don't worry, we won't give your email out to anyone.
It's all FREE with NO obligation.
If you have specific questions on the Big Sky Real Estate Market please Contact Me. I will be happy to provide you with additional information.
Thanks!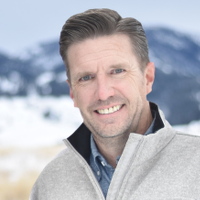 Craig Delger
Big Sky Real Estate Group
406-581-7504
Historical Big Sky Real Estate Market Update
Big Sky Real Estate Sales History By Year(Single Family Homes)
YEAR
DAYS ON MARKET
SOLD PRICE
TOTAL SOLD
2017
245
151
$3,800,000
$340,000
$1,439,194
$1,237,500
76
$119,571,649
2016
241
190
$5,900,000
$465,000
$1,538,156
$1,080,000
60
$92,289,374
2015
229
181
$9,825,000
$142,310
$1,291,839
$1,037,500
66
$85,261,417
2014
252
150
$17,000,000
$270,000
$1,583,158
$967,000
90
$142,484,225
2013
221
182
$7,500,000
$193,000
$960,967
$600,000
67
$64,384,852
2012
213
112
$3,360,000
$135,000
$926,706
$697,500
57
$52,822,275
2011
286
164
$5,300,000
$75,000
$1,044,856
$662,500
56
$58,511,984
2010
241
148
$4,850,000
$81,000
$908,298
$715,000
44
$39,965,150
2009
259
191
$4,173,7150
$100,000
$996,173
$728,000
33
$32,873,715
2008
308
236
$4,975,000
$235,000
$1,849,957
$1,846,500
27
$49,948,850
2007
189
178
$4,300,000
$151,000
$1,516,176
$1,387,500
58
$87,938,250
2006
93
33
$4,250,000
$330,000
$1,611,781
$1,590,000
48
$77,365,500
2005
240
102
$2,759,835
$220,000
$1,071,039
$835,000
38
$40,699,485
2004
199
99
$2,400,000
$233,000
$630,559
$450,000
37
$23,330,690
*(MLS Area 5B, Single Family Homes)
2017
The primary story for real estate in Big Sky for 2017 continued to be the lack of available inventory.


2016
The primary story for real estate in Big Sky for 2016 was the lack of available inventory. This led to slight decrease in total transactions compared to the previous year for single family homes, although the number of condos/townhomes sold increased.
2015
2015 marked the 6th year in a row that our Big Sky PureWest office outperformed all other real estate firms in the area, successfully closing 58% more gross sales volume than our next closest competitor.
The Big Sky Real Estate market cooled down a bit during 2015. Units sold fell 5.3% compared to 2014, and gross sales volume was down 11.8%. Active listings increased 7.2% as more properties were constructed, and additional properties went up for sale.
Average sales price fell from $640,476 in 2014 to $596,001 in 2015. Median sales price increased from $364,437 in 2014 to $366,000 in 2015.
2014
2014 was a robust real estate market for Big Sky. Like much of the country, real estate continued to trend upwards in 2014 and we are proud to announce, that for the fifth year running, our Big Sky PureWest office outperformed all others in the area, bringing together more buyers and sellers! In fact, PureWest alone was responsible for almost half of the entire gross volume sold in Big Sky in 2014!
While the number of closings decreased in 2014 to 328 (when compared to 350 in 2013), the average sales price increased to $749,691 from $473,611 in 2013. This explains the 2014 surge in real estate sales volume, which grew significantly to $245,898,813 from $165,763,897 in 2013. In fact, average sales price, median sales price, and overall gross sales volume all climbed in 2014. The Median Sales price rose from $300,000 in 2013 to $378,772 in 2014, while the percentage of distressed sales fell from 13% in 2013 to only 5% in 2014.
Inventory levels were low in 2014, with only 415 properties currently on the market in the Big Sky area (compare this to a high of 842 in 2009). Current absorption rates are indicative of a correction in the market's supply and demand and if maintained, should continue to push pricing higher through 2015.
The 2014 Big Sky Real Estate Market Update exhibited an increase in sales volume and average sales price in all categories including vacant land, homes and condominiums. As the market continues to expand, developers are entering back into the market. This winter, Moonlight's newest neighborhood, Silvertip, was released to the market. In addition, Big Sky Resort plans to release a limited number of Montana Club Chalets in the coming months.
PureWest | Christie's International Real Estate is the listing agent for both of these exciting projects, so be sure to contact us for further information.
---
2013
The Big Sky area real estate is picking up from the recent downturn. Price points for the lower end properties are climbing due to dwindling listings and scarce rental inventory, plus, sale prices seem to be coming in close to listing prices. Sales of premium condominiums and homes started picking up a year ago and with Big Sky Resort's pending acquisition of Moonlight Basin, real estate will continue to see substantial growth.
Several early season storms have provided Big Sky Resort with excellent ski conditions and helped make the Christmas Holiday season one for the records. Up over 16% in skier visits from the previous record breaking year, with Mountain Sports and the Basecamp Kid's and Teen's camps seeing their busiest week as well. Big Sky also saw its biggest skier day in history with nearly 6,000 skiers, with an average of over 4,800 skiers and riders during the week between Christmas and New Year's Holidays. Across the Boyne family of resorts nationwide, the holiday season produced record attendance and revenue numbers.Benefiting from that record traffic, Powder Ridge Phase 5 showed significant progress as well. Cabin nos. 28 and 29, both Homestead floor plans, were completed and closed to the delight of their new owners. Meanwhile, new contracts have been accepted on Cabins 30 and 31, also Homestead floor plans. Construction has proceeded right on schedule and Cabins 36 and 32 are poised to be completed and closed during February. In total, six cabins will be completed and closed before the end of ski season. Ground breaking will take place on two more, just as soon as spring conditions return to Lone Mountain. In just one year since the project was launched it is fifty percent sold.