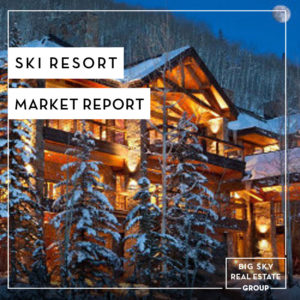 Owning a luxury chalet or mountain retreat in one of the world's top ski resorts affords an unparalleled lifestyle of "high-altitude" recreation during the ski season and beyond. These homes often become what many refer to as a "legacy property" creating memories for generations of family or friends. Top ski resorts offer world-class recreation and amenities to suit all interests and age groups: skiing at all skill levels and terrain options plus off-piste activities and excellent après-ski relaxation and entertainment. Our Ski Resort Market Report looks at the Western states of Montana, Idaho, California, Nevada, and Utah, which are home to some of the world's most spectacular winter resorts. In our 2016 Ski Resort Market Report on the world's top ski destinations, we take an in depth look at real estate prices for Big Sky and compare them to other "best in class" ski areas. This article will be updated with the most current market data as soon as it is available.
SKI RESORT MARKET REPORT: SINGLE FAMILY HOMES & CONDOS
Resort
NUMBER OF TRANSACTIONS
AVERAGE SOLD PRICE
TOTAL DOLLAR VOLUME SOLD
 
 2013
 2014
 2013
2014
2013
 2014
 Big Sky, MT
 336
 311
 $459,235
 $726,016
 $168,169,427
 $241,413,813
 Vail, CO
 297
332
 $2,040,675
 $2,439,071
 $606,080,346
 $809,771,682
 Breckenridge, CO
 1,534
  1,686
$496,197
 $517,291
 $762,043,288
 $872,928,602
 Aspen, CO
 1,713
1,661
 $794,684
$1,004,155
 $1,361,293,666
 $1,667,901,845
 Telluride, CO
 366
 476
 $727,247
$875,986
$266,172,432
$416,093,543
 Crested Butte, CO
 265
 264
 $488,639
$481,790
$129,489,437
$127,192,590
 Park City, UT
 1,191
 1,162
 $910,804
$995,402
$1,084,766,953
$1,156,656,571
 Lake Tahoe, CA
 235
 240
 $1,121,772
$,1420,821
$262,494,719
$340,997,136
 Jackson Hole, WY
 440
 353
 $1,167,633
$1,172,189
$513,758,300
$413,782,700
 Sun Valley, ID
 289
 286
 $669,465
$933,236
$193,475,603
$266,905,733
SKI RESORT MARKET REPORT: POPULATION GROWTH
RESORT
POPULATION
POPULATION
2010
POPULATION
2000
POPULATION
1990
POPULATION
1990-NOW
POPULATION
2000-NOW
POPULATION
DENSITY
LAND
AREA
Big Sky, MT
2,266
2,308
1,116
686
230.32%
103.05%
19
120.0
Vail, CO
5,287
5,305
4,517
3,456
52.58%
17.05%
1,132
4.7
Breckenridge, CO
4,452
4,540
3,769
2,192
103.10%
18.12%
753
5.9
Aspen, CO
6,607
6,658
6,462
5,918
11.64%
 2.24%
1,705
3.9
Telluride, CO
 2,120
 2,325
 2,303
 1,253
 69.19%
-7.95%
 2,873
 0.7
Crested Butte, CO
 1,563
1,487
 1,524
 837
 86.74%
 2.56%
 1,856
 0.8
 Park City, UT
 7,656
 7,558
 7,462
 4,276
 79.05%
 2.60%
 436
 17.6
Lake Tahoe, CA
 21,593
 21,403
 23,557
 21,501
 0.43%
 -8.34%
 2,125
 10.2
Jackson Hole, WY
 9,646
9,577
 8,606
 5,607
 72.03%
 12.08%
 3,311
 2.9
Sun Valley, ID
 1,226
 1,406
 1,455
 1,034
 18.57%
 -15.74%
 124
 9.9
*Population Density = The number of residents per square mile of area.
*Land Area = Area In Square Miles.
Ski Resort Market Report
Big Sky, Montana Big Sky has the largest Land Area, the lowest Population Density, and Big Sky is growing substantially faster than the other popular ski resorts researched in our Ski Resort Market Report.  Big Sky is enjoying a renaissance under the combined leadership of Boyne USA, CrossHarbor, Montage Resorts and the Lone Mountain Land Company. Big Sky, Moonlight Basin and the Spanish Peaks Mountain Club ski resorts have been combined under the Banner of Big Sky Ski Resort. We feel that Big Sky represents an excellent real estate opportunity. There are already three new ski accessible cabin developments under construction, each designed with a contemporary, mountain look and feel.
Vail, Colorado Vail Valley's market began to stabilize at the end of 2014 with the highest yearly sales volume since 2008, as well as the highest number of transactions since 2007. Moving away from the investor-dominated market share, more residences were purchased and used by primary residents and secondary home owners. Homes are spending less time on the market and offers are being presented close to list price, with inventory remaining low. The steady upswing in our market is growing rapidly at 20% and is expected to rise throughout 2015.
Breckenridge, Colorado Breckenridge has seen a very strong start in 2015 with a 27%  increase in luxury sales volume over $1M in the first quarter over the same period in 2014. A 17% increase in number of properties sold over $1M reflects Buyers' confidence that now is  the right time to invest in the resort market.
Aspen, Colorado Aspen continues to be an exceptional place to own real estate. The resort has seen strong growth in all segments of the real estate market. In 2014 we saw an almost 20% increase in selling price, price per square foot, and dollar volume. Properties have held strong at 94% of the asking price.
Telluride, Colorado After multiple years of a slow recovery, 2014 recorded very positive trends over the previous year and a very strong picture of how 2014 resembles the last record year of 2007. While the market still fluctuates up and down, it's an optimistic picture.
Crested Butte, Colorado Crested Butte's 2014 overall housing market was very similar to 2013 with average sold price, number of properties sold and total volume being close to even. Positives in the 2014 market were that price per square foot was up and days on market were down. 2015 is expected to see gains in total sales volume and average sold price. Crested Butte is already off to a stronger start in the first quarter compared to 2014.
Park City, Utah The Park City resort market remains very complex and segmented by micro-location and price point. While the number of closed transactions was flat, the "Vail Affect" sparked greater interest which drove up the median sold price. It is anticipated that there will continue to be a shortage of inventory, which will fuel moderate increases in price and a reduction in overall days on the market.
Lake Tahoe, California Much like the San Francisco Bay Area feeder markets, the overall Tahoe/Truckee real estate market continues to be defined by a lack of inventory, resulting in a sales volume decline accompanied by increased valuations across most of the region's neighborhoods. More inventory is gradually coming on the market, which is providing welcome relief for buyers in search of the right home. Early 2015 sales are encouraging as we head into the prime spring/ summer home-buying season.
Jackson Hole, Wyoming The housing market in the Jackson Hole region is kept competitive due to all but approximately three percent of the land in Teton County being state and federally protected. The robust market benefits from the sale of large land parcels and an active market in resort-based fractional units – neither of which is included in this report. A lack of available real estate inventory is the rate-limiting factor within the Jackson Hole region.
Sun Valley, Idaho The market in Sun Valley continues to rebound solidly from the recession, showing gains in volume over the last couple of years that suggest steady, long-term growth. The number of transactions has decreased, and the median sales price in the Resort Core has increased dramatically. The ethos in Sun Valley is to maintain the small mountain town atmosphere. It is anticipated that inventory will tighten into the summer months.