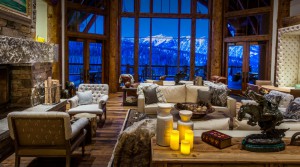 The Spanish Peaks Clubhouse features dining options, a bar, a swimming pool, hot tubs, fitness center, and activities for kids.
In winter the Spanish Peaks Clubhouse serves as the base ski lodge for the Spanish Peaks Mountain Club. In summer it is the golf clubhouse, and the starting point for a number of other outdoor activities.
The popular Spanish Peaks Clubhouse restaurant offers a fine dining experience. The executive chef uses as much local, organic meat and produce as possible. Whether you are out for a romantic dinner or entertaining friends, the exquisite dining room provides a luxurious yet cozy atmosphere, perfect for any occasion.
The Clubhouse Bar features a daily continental breakfast, with fresh homemade breads and pastries, a full lunch menu and a "pub style" club menu.
The Spanish Peaks Clubhouse swimming pool is a popular spot for all seasons. Order a beverage poolside and relax after a day playing in the mountains. There are also two hot tubs, perfect for tired muscles after a day on the slopes, trails or fairways.
The fitness center at the Spanish Peaks Clubhouse offers an array of cardio and strength machines and free weights. The Life Fitness Discover Series includes treadmills, cross trainers, recumbent lifecycles, Skier's Edge conditioners, and GX bikes.