Searching for Big Sky Adventure? Here is a list of things to do in the Big Sky area to get your heart pumping.
ZIPLINE
There are 4 different zipline courses located at or near Big Sky.
Big Sky Adventure Zip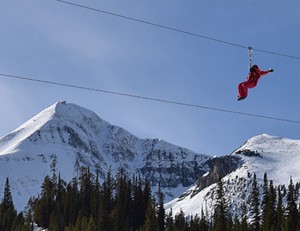 Ride up then zip down on Big Sky Resort's Adventure Zipline Tour. The Adventure zip is designed for speed. Embark on the Explorer Double Chair and take in expansive views of Lone Mountain and the Spanish Peaks of the Madison Range. Once at the top of the chair let the zipping begin. Swoop your way down the mountain on four adrenaline pumping lines spanning up to 1,500 feet long and 150 feet above the forest floor, including a Twin Zipline where you can race your fellow adventure zippers.
Big Sky Nature Zip
The Nature Zip begins with a 20 minute hike up Lone Mountain and consists of three ziplines ranging from 350′ to 500′ in length, 30 to 60 feet in the air.
The first Line starts toward the bottom of Huntley Hollow and ends in the trees below Middle Road. The second Line starts a short downhill hike from the end of the first and ends next to the bottom of Hangmans. The third Line starts at the end of the second and ends towards the bottom of Middle Road/Lower Calamity Jane.
Yellowstone ZipLine & Canopy Tours
Fly across the Gallatin River with Yellowstone ZipLine Tours with up to 6000 feet of Zip Lines, Rope Bridges, and Challenge Elements. . Sway in tree platforms, test your balance on adventure sky bridges, and zip across the river twice! Choose a 2 or 3.5 hour guided tour, soaring below limestone cliffs and pine forests, where the movie, A River Runs Through It, was filmed. Website: www.yellowstonezip.com
Yellowstone Aerial Adventures
Yellowstone Aerial Adventures is Yellowstone's first zipline adventure park! Located right in West Yellowstone, Montana, 3 blocks from the entrance to Yellowstone National Park and within walking distance of most hotels in town. A unique and thrilling experience for visitors of all ages and physical abilities. Enjoy the picturesque backdrop of Yellowstone National Park as you fly across a 1000 feet of zip lines and tackle the 49 challenging elements of Montana?s largest aerial adventure course. Website: www.yellowstoneparkzipline.com
---
HIGH ROPES COURSE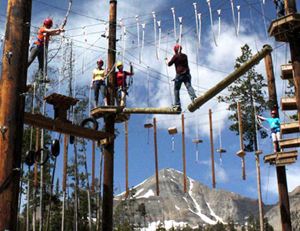 For a thrilling personal or team challenge, try Big Sky's high ropes course. It has more than ten elements suspended 20-30 feet above the ground. You are safely harnessed in while you attempt features such as the Pirates Crossing or Swinging Beams under the supervision of a skilled guide. Allow plenty of time for the high ropes course (at least the 2 hours listed). It takes time to brief everyone and get all the participants up on the structure. Reservations in advance are almost always needed. Riders must be at least 3 feet tall and between 45-300lbs
---
SNOWSHOE
---
DOG SLEDDING
---
SLEIGH RIDES
---
SNOWMOBILING
---
NORDIC SKIING
---
ALPINE SKIING
---
SNOWCOACH TOURS
---
WHITEWATER RAFTING